What I Started With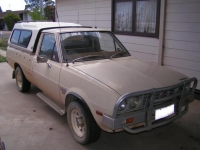 This is what I started with. I had just picked it up from my parents,(It would have probably ended up at the wrecker if I didn't take it).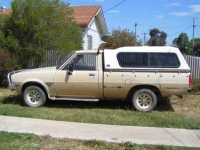 Side on, you can see it does have potential.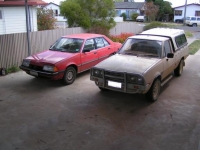 L200 Ute next to my old GK Sigma, (now donor car). Looking back a GK isn't really a good donor for the L200, not many bits have been donated. A GH – GJ Sigma would be a better match as it is of the same period. *27/03/05 Oh dear it's been 6 months since I had 2 drivable cars, starting to have seconds thoughts, just wish I could finish the project so I could have a car to drive to work!)*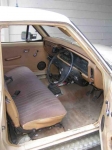 The stock interior, pretty plain and boring. All though it had been fitted with a center instrument cluster and aftermarket aircon, these had to go as they caused more problems than what they were good for.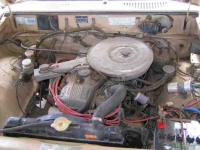 The already fitted 2.6L Astron engine. It starting to blow smoke, and it will go for the rebuilt and modified one from the Sigma.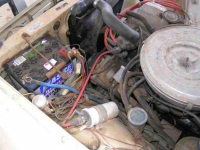 A good indication of the electrical condition of the car. The guy who modified the ute the first time did a pretty good job mechanically, but did a poor job on the electrics. It caused my parents alot of problems during the time they owned it.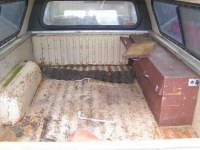 Do not fit a canopy and carpet into your ute, unless you check them regularly. The carpet traps water and cause rust.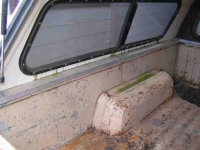 The canopy leaked, so there was half of the problem. An extra steel panel had been added to tidy up the tub. The problem with this is that if water gets inside the panels, it has no where to go and it will rust until there is a hole. *UPDATE 27/03/05 I spoke to one of the guys at FlexiglassThe problem I had with my canopy is that the window frames leaked. The guy from Flexiglass spent a fair amount of time on the phone with me and told me how to fix it, (good after-sales service for a product that is over 10 years old!)
All I need to do is pull the window frames out, clean them up, and put a bead of silicon on them and the canopy, then refit the frames…TOO EASY
Wish we had of tried that 5 years ago, we might have saved a tub!