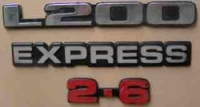 This page was originally written for www.cardomain.com during the building of my Mitsubishi L200 ute.
I haven't updated the page in a long time, but it makes sense to publish the story here along with all of my other projects.
Updated 17/09/06
Currently my L200 is a 'work in progress', but it is nearly complete.Since I started the rebuild, I documented my work here on cardomain. I do more work to the L200 than updating this site.  But when I do get a chance I do update it.
Check it out in a month or two, maybe I will have something else to show off!
Currently here she is in her current state: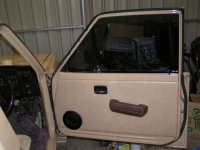 11/10/05 – Here is my near complete L200 ute. It is currently drivable, and I am just finishing of some of the final touches.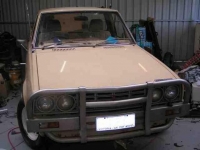 15/01/05 – This was the last time that was in almost one piece before I started pulling it down.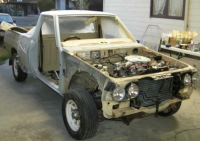 07/05/05 – The L200 at it's worst.  It has been a FULL ground up rebuild!
I am basically modding the ute with all the parts that are available on other compatible Mitsubishi's that are BOLT ON. (Well bolt on as much as I can, there has been a fair bit of welding too).  The L200's have a very basic interior / electrics / in-fact EVERYTHING, so I have been very busy fitting out the interior and electrics to include everything that the L200 should have included.
Please check out the pages on my site and see where I am currently up to.
Page 2: Engine
Page 3: Before Pictures
Page 4: Interior
Page 5: Electric Window Modification
Page 6: Power Steering
Page 7: Body Repairs
Page 8: Paint
Page 9: Weber Carburettor*NEW*
Page 10:Mitsubishi Racing