I have been caught out a few times with running WordPress on my Snow Leopard 10.6 Mac Server several times. After stumbling around trying different things and then eventually face palming when I found the answer, I thought I should start a server journal.
Hang on, would it not make more sense to use my blog???
So here is the first post in a long time.
Most of the cool WordPress plug-ins require you to use permalinks. That is easily achieved by navigating to  Setting | Permalinks from the WordPress Dashboard and choosing Post Name.  So now your posts can have more user friendly names.
Not so easy, Why did I get the following error when I browsed to this link?
Not Found
The requested URL /l200/l200-engine/ was not found on this server.
Additionally, a 404 Not Found error was encountered while trying to use an ErrorDocument to handle the request.
---
Apache/2.2.22 (Unix) PHP/5.3.15 Server at www.vk3jme.id.au Port 80 You can fiddle around with a ton of different apache config files if you wish, but the easy fix can be found in Server Admin.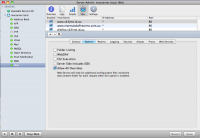 From Server Admin, choose the Web option on the left hand side and then choose the hostname of the website you are trying to fix.
Select the Options tab and then tick Allow Overrides.
Click on the Save button in the bottom right corner and wait for the profess wheel to stop spinning. Go back to your browser and you should be able to load your page with the permalink.